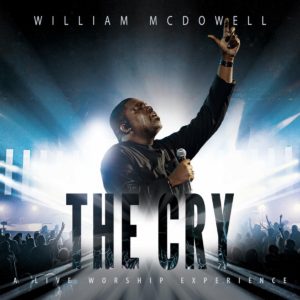 William McDowell
The Cry: A Live Worship Experience
Integrity Music (release date: September 20, 2019)
www.WilliamMcDowellMusic.com
By Bob Marovich
I've always felt that Praise & Worship music ought to be recorded live. Since it comes out of the worship experience, why not capture it in this same environment?
That's what William McDowell has done with The Cry: A Live Worship Experience. The advent of digital distribution has made possible an album like this, with a total of eighteen tracks that provide more than two hours of singing and instrumental and spoken word interludes.
The album, McDowell's sixth, was recorded not at Deeper Fellowship Church in Orlando, Florida, where he is pastor, but at Redemption to the Nations Church in Chattanooga, Tennessee.
Like other P&W artists, McDowell wraps simple singalong lyrics in modern gospel, rock, jazz, and pop stylings. The difference between what he is doing and, say, Hillsong United, is the beat. While Hillsong's compositions thrum with the buzz of stadium rock bands U2 or Coldplay, McDowell's are for the most part flamboyantly percussive. Even the quieter moments are more intentionally percussive than what you will find in Contemporary Christian Music because those moments feel as if they are but a temporary respite as the selection moves to an emotional apex.
With notable exceptions that I'll highlight later, the melodies on The Cry are not compact memorable motives but appear to link songs, much like the main theme of a soundtrack or symphony. Similarly, the message is singular and extends across song breaks. The message is at once a plea and a confidence that victory (over sin, over sickness, over other struggles in life) is yours with persistence and faith. Indeed, if removed from the worship experience, albums such as this could be considered symphonic sacred music. The eight-minute title track is a good example.
"Give Him Praises" and "Nothing's Impossible" are two of several conventional opening numbers that feature antiphonal singing, a mid-tempo drive, and a thumping rhythm section. The songs transition in a nearly unbroken litany. "Finished Work," the best of these early selections, moves along at a relentless tempo as McDowell and featured vocalist Daniel Johnson declare that whatever is in your future, it's already done. It was accomplished, they sing, "at Calvary, two thousand years ago."
The album benefits from several featured soloists like Johnson. Tasha Cobbs Leonard, arguably today's top gospel artist, squalls like a veteran evangelist on the stadium-sized worship ballad "Even Now." The song transitions into the more soothing and atmospheric "Deep Places," led by the lovely-voiced Floridian Trinity Anderson. Anderson also appears on the equally poignant "Touch the Hem" and with Queenija Morris on "Loss for Words." Travis Greene joins Nathaniel Bassey on the hypnotic "Nothing Like Your Presence," though at more than fourteen minutes, with stretches of nothing but repetitive musicianship, it is an example of how less would be more.
The melody of "How Great," a worship ballad featuring a straightforward performance from Yolanda Adams, does differ sufficiently from the overall musical motive to make it stand out. Another song with a separate melodic strand is "Here Comes the Glory," led by Dallas-based husband-and-wife team David and Nicole Binion.
It's when McDowell slows down and emotes that he's at his best. "Stay," from its string-laden intro to the conclusion, is a beautiful and melodically distinctive ballad about heavenly healing that encapsulates the album's theme of the power of prayer. It is arguably McDowell's finest work to date and is among one of the loveliest gospel songs this year.
During "Still Moving," McDowell provides something like a testimonial service, chronicling the many miracles he says have happened at his church. But instead of congregants standing up and testifying about these miracles of their own volition, Pastor McDowell singles them out and tells their story himself. One, a woman named "Miss Pam," was once paralyzed but can now walk. Another individual, Andrea, was in a wheelchair but no longer needs it. McDowell goes on to provide pastoral duties in declaring more healing moments for the live audience.
Despite its length, The Cry is the kind of album that needs to be, and perhaps was meant to be, listened to in one sitting. With the noted exceptions above, the eighteen selections are not so much standalone entities as parts of an emotional whole that rises and falls and rises again, concluding with a collective exhale on "I Don't Wanna Leave," a tender acclamation of the safety and security one feels in the presence of the Lord.
Along these lines, I suspect a DVD of the worship experience is in the planning. If not, it should be.
Five of Five Stars
Picks: "Stay," "Even Now," "I Don't Wanna Leave"