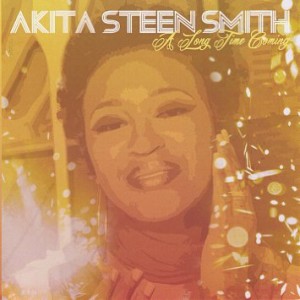 Akita Steen Smith
A Long Time Coming
Akita Steen Smith (2014)
http://altmgtmktc.com/akita-steen/
By Bob Marovich
"It's been a long time coming," Akita Steen Smith sings on the title track of her five-cut EP.
No doubt it has been a journey, but A Long Time Coming suggests that the Detroit singer is not yet at the finish line.
This independently-produced project by indie vocalist Smith is contemporary gospel steeped in smooth jazz arrangements and musicianship. Less is more, as the saying goes, and it would have been good advice for this project. In more instances than fewer, too much is going on musically, especially from the synth and sometimes also from the drum programming. The end result detracts from where the focus ought to be: on the vocalist. Thankfully, the production mostly succeeds in maintaining a proper balance between musicians and singer, but there are times when the music, although textured and tight, simply overpowers the singer.
The EP's top selection is "Praise Him," sung with Evangelist Jackie Johnson, whose vocal coloring is unnervingly like Smith's, as if they learned their improvisations and embellishments from the same teacher. Johnson is more vocally flexible, especially if that is her hitting off-the-stave high notes toward the end.
Where Smith succeeds on the EP is in her rugged-but-right shouts that occur toward the end of "All of Me," "He Knows Best" (which features a cameo by her father, recording artist Pastor Walter Allen Steen), and "Turn It Around," the song for which she is best known.
The addition of one or two classic gospels with only piano, or a small jazz combo, for accompaniment, would have made the EP better and offered a much clearer portrait of the singer.
Three of Five Stars
Pick: "Praise Him"