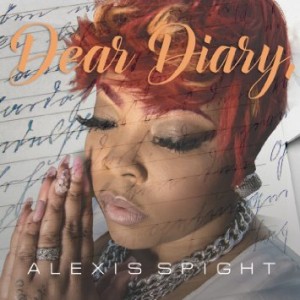 Alexis Spight
Dear Diary
Uncle G Records / eOne Music (2015)
www.unclegpromo.com
By Bob Marovich
On the opening track of her new album, Dear Diary, the blazingly red haired Alexis Spight declares she comes from the old church and commences to sing a medley of congregation classics as an "old school song with a new school twang."
From there, however, Dear Diary offers mostly new school twang, with modern beats and instrumentation, flashes and chortles of electronica, and percussive piano quarter notes as intros on a few tracks. The instrumentation, in fact, is as much of a presence on the album as the singer. At the same time, "Your Award" and "It Will Be Alright" possess keen pop melodies, and "Drop That" has a catchy chorus that will likely make it to the playlists of non-conglomerate gospel radio stations.
"The gospel music industry has to use different methods to get different results," Spight says, but no apologetic is needed. Spight's urban AC-driven, pop-flavored gospel is now industry standard. What was once alternative is now normative.
Still, the album's finest secret is the Spight-penned "Only Jesus." Accompanied by Jamar Jones on piano, the singer delivers a neo-traditional churchy selection that reminds us of why she was a BET Sunday Best finalist in 2012. The song gives Spight space to improvise with vocal flowers and frills; listeners will be standing and waving hands. Like "Ain't Nobody Gonna Turn Me Around" from her L.O.L. album, "Only Jesus" will resonate best with traditionalists.
Outside of "New School Twang" and "Only Jesus," the old church can be found in the album's main lyric content, which focuses not on repetitive praise lines but on the importance of maintaining faith and belief during trying times. "I Believe," "It Will Be Alright," and "Don't Worry" telegraph this in their titles.
The current single, "All the Glory," has a Tasha Cobbs-style flowing worship feel and is the most in synch with today's gospel top 20.
Dear Diary will play best with Alexis Spight's current fan base and devotees of youthful contemporary gospel, while old church hipsters like me will gravitate to "Only Jesus."
Four of Five Stars
Picks: "Only Jesus," "All the Glory."