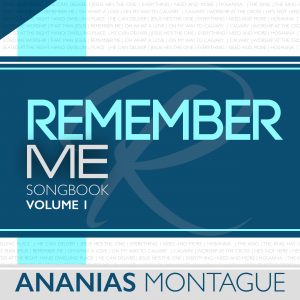 Ananais Montague
Remember Me: Songs from the Cross Vol. 1
Ananais Montague Music
www.amusac.com
By Bob Marovich
Remember Me: Songs from the Cross, Volume 1, from the Chicago born and raised Ananais "Markey" Montague, is a two-disc, seventeen song project that appears to have two main purposes: to follow the narrative from Jesus' entrance to Jerusalem (Palm Sunday) to his crucifixion, resurrection, and ascension; and to introduce the songs, either wholly composed or co-written by Montague, to other music ministers.
What Montague provides is a collection of contemporary church choir songs–some simple, others more challenging–that combine the classical underpinning of Richard Smallwood with elements from traditional gospel music. "Jesus, He's the One" is the most traditional, with organ, bluesy vocalization, and the 9/8 "rocking chair" tempo. "Hosanna" is a dramatic worship ballad among several worship songs that conclude Disc 1.
Disc 2, which covers the holiest parts of Easter week and beyond, starts off understandably more somber than the Disc 1 selections. After the heartbreaking "On My Way to Calvary," and subsequent soundtrack surrounding the crucifixion, comes "Worship at the Cross," a gentle CCM-flavored ballad. Thus begins the emotional recovery. By the beautifully arranged and harmonically complex "He's Not Here," the atmosphere is undeniably more hopeful. All cares are gone by the bracing and celebratory "He's Alive." The confident optimism of the first disc returns in full by the final track, "Seated at the Right Hand."
It would have been helpful had the project listed the names of the soloists, the choir, and the musicians, as there are some excellent talents in the midst of this project, most notably the pianist on "Hosanna" and "He's Not Here," and the male vocalist who voices Jesus on "On My Way to Calvary." The vocalist for this selection emotes with such drama and passion that the listener cannot tell whether the shouting among the choristers is scripted or spontaneous.
Choir directors seeking new material for the 2019 Lenten season will find much to mine in this collection from Ananais Montague, who currently serves as worship pastor at Salem Baptist Church in Omaha, Nebraska.  A companion songbook with sheet music is available. But even for those who just want to listen, the project is very appealing.
Four of Five Stars
Picks: "Jesus, He's the One," "On My Way to Calvary"