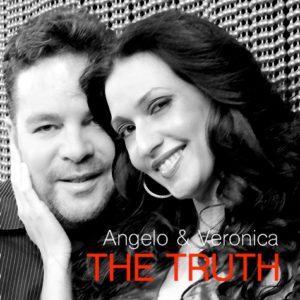 Angelo & Veronica
The Truth
A&V Music (release date: November 23, 2017)
www.angeloandveronica.com
By Bob Marovich
Brown-eyed gospel duo Angelo & Veronica first made waves during the 1990s with their messages of overcoming sung with the suavity of BeBe & CeCe Winans. They racked up three Dove Awards in the process.
Their new album, The Truth, offers a remix of two of their best-known hits alongside new songs, each delivered with the husband-and-wife team's trademark passion and laid-back R&B backdrop. Their voices have matured, however, to where they sound more like Michael McDonald and Anita Baker these days than BeBe and CeCe.
Maturity and wisdom also inform the album's lyrics. For example, the title track features playful polyrhythmic electric beats, but the duo riffs on the sobering message of John 8:32. The truth will indeed set you free, they sing, but living the truth is not at all easy. With a nod to Jack Nicholson's character in the 1992 film A Few Good Men, they ask "Can you handle the truth?" It's not a rhetorical question any more than Nicholson's on-screen comment was glib.
A gothic feeling engulfs "Bold." In what is her best singing on the album, Veronica tells off her enemies by declaring that God gives each of us the confidence to overcome evil. "Rise" is a paean to personal triumph, while "Testify" is a straightforward recommendation to tell your troubles aloud. Those who know about Veronica's struggle with depression will hear her working through this issue in the songs, while Angelo's vocal support is tight as a braid in a rope.
The album's finest track is the duo's remake of their 1992 "Higher Place." No re-tred, this new arrangement easily makes mince meat of the fresh-faced original. Their updated treatment of "God Knows" also has more panache than the 1994 version. Again, their experience as artists bring gravitas to their presentation but not so much as to dull the lively musical mood for which they are known.
Angelo's guitar instrumental version of "Higher Place" is lovely but extraneous. On the other hand, Veronica's Spanish-language version of "Bold," as "Por Ti Audaz Soy" ("For You I Am Bold") is important, given the interest in gospel music among Latino churchgoers.
The Truth offers sage encouragement for the troubled in mind, body, and spirit.
Three of Five Stars
Picks: "Higher Place," "Bold"