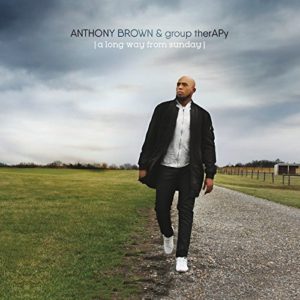 Anthony Brown & group therAPy
[a long way from sunday]
Tyscot Records (release date: July 28, 2017)
www.tyscot.com
By Bob Marovich
[a long way from Sunday] is Anthony Brown & group therAPy's third album for Tyscot Records and the follow-up to 2015's Everyday Jesus, which earned the group no less than ten Stellar Awards in 2016, including Song of the Year for "Worth."
The album may be third in chronological order, but it is number one in terms of quality and consistency of message.
Brown opens with a brief narration that sets the album's tone. He says he was "raised in church but live[s] in a very real world." The lessons he's learned from living in that "real world" were often painful but have led him to personal triumph. The album's songs, he concludes, carry the message that has gotten him through "when I am a long way from Sunday."
From the opening strains of "Glad," there's little doubt as to how Brown gets from Sunday to Sunday. To a Kirk Franklin-like happy beat that shifts from bouncy to island groove to rock, Brown engages in a call-and-response with group therAPy about tossing cares aside because God will get you through.
"Na Na OK (The Happy Song)" is just as clear as "Glad" on this Christianization of the "don't worry be happy" maxim. Regardless of whether the baby is crying, you are buried in bills, stuck in traffic, or experiencing rudeness at work, "life is too short not to dance every day."
Indeed, whereas traditional gospel tends to be grounded in humble supplication, Brown and group therAPy call for Jesus in confident celebration, a surety in knowing that God is in charge. Or as Brown exclaims on "Everytime:" "Everytime I call on Jesus, something happens."  Here he's accompanied by fellow charting artists Jonathan McReynolds and Travis Greene. It's the kind of star-studded combination straight outta a Stellar Awards ceremony or an after-hours jam session at GMWA.
Although the passionate "Trust in You" is the album's hit single, the ballad "I Refuse," with its mantra-like lyrics, is the superior selection. Another optimistic track evoking the bubbliness of latter-day Kirk Franklin, "I Refuse" reminds the listener that "no problem is bigger than my God." And, as the group argues on "Consumed," which features a no-frills vocal from Le'Andria Johnson, God's saving presence is never dependent on our good works.
Most every song on [a long way from Sunday] is top-notch, with "I Refuse" potentially having long legs in terms of longevity. The uncredited soloists from group therAPy are often just as strong as the featured soloists. Further, group therAPy's harmonies are as good as any professional studio chorus, as they demonstrate on the lovely a cappella "Why." The seemingly out of place robotic opening to "I Got That" is the strange exception to an otherwise exceptional album, one of 2017's best.
Five of Five Stars
Picks: "Trust in You," "I Refuse," "Consumed"