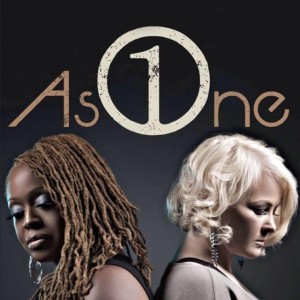 AsOne
AsOne
360 MusicWorx/Capitol Christian Distribution/Universal Music Group
(release date: June 23, 2015)
www.AsOneOfficial.com
By Bob Marovich
Interracial gospel/sacred singing groups go back more than a century—from the days of Polk Miller & the Old South Quartette at the turn of the twentieth century to Homer Rodeheaver's singing with the African American Wiseman Sextette; and from Gene Viale (of Puerto Rican heritage) in the Cleveland Singers, Elizabeth Meagher in the Exodus Singers, and the multicultural Brooklyn Tabernacle Choir.
The color of the skin counts less than the color of the voice, and there are rich hues in the voices and harmonies of Lisa Wright and Theresa Bailey, the duo known as AsOne. Their self-titled debut is brief but delightful, filled with dramatically sung selections containing cinematic sweep and haunting melodies.
As co-writers, Wright and Bailey show amazing aptitude for assembling a song. True meaning comes through on tracks such as "Love Won," which in some ways can be interpreted as a tribute to Rev. Dr. Martin Luther King Jr. as much as to Jesus.  "Born to Die," written in a minor key appropriate to its Lenten theme, tells the Passion through the eyes of Jesus's mother, Mary. "One" affirms that the most direct way to unconditional love is to recognize and embrace difference.
Props also belong to Lamar Campbell and Spirit of Praise, who function as the supporting choir on the inspirational single, "Hero," and the anthem to amity, "One," which features a rap interlude by Da' T.R.U.T.H. "Love is a Better Way" features the McCrary Sisters. Mark Kibble of the celebrated quartet Take 6 assists on the achingly gorgeous ballad, "You Prayed Me Through," but the song's developing drama comes from the ladies.
AsOne blends the sentimentality of CCM with the swagger of gospel. I can't imagine the duo not getting Stellar nominations for such an auspicious debut.
Five of Five Stars
Picks: "One," "You Prayed Me Through."