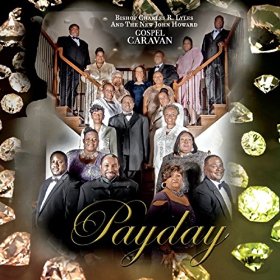 "According to the Power"
Bishop Charles R. Lyles & the
New John Howard Gospel Caravan
From the EP Payday (released August 2014)
www.JHGCaravaninc.org
The musicians set the drum machine tempo to rapid-fire, then all instrumentalists (including the human drummer) and the singers join in on this church-wrecking selection.
Bishop Charles R. Lyles, Pastor Wendy Mason-Harris, and Elder Ida Mae Graves take turns shouting on Ephesians 3:20, about being filled with the power of God, and in this context, filled with Holy Ghost fire. As with many songs about Holy Ghost fire, the song jumps with praise break furor.
The group's single is "Healed," but leave it to the Journal of Gospel Music to flip the record over and groove to the more exuberant flip side.