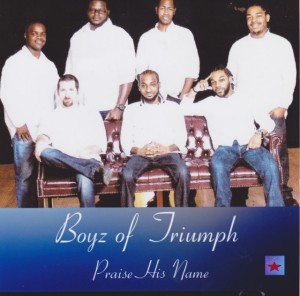 Boyz of Triumph
Praise His Name
Sharp Records (2015)
www.reverbnation.com/theboyzoftriumph
By Bob Marovich
The Boyz of Triumph from Sycamore, Alabama, is a seven-member gospel quartet that blends the close harmony tradition with the contemporary gospel style.
The harmonies are front and center on Praise His Name, the quartet's nine-track disc for Sharp Records. With its medium tempo and falsetto flights from the lead singer, the bouncy title track is as good an example as any of the group's aural fingerprint. The harmonies are especially robust whenever the musicians pause and the group sings a cappella, which doesn't happen nearly as much as it should.
The lyrics alternate between demonstrations of praise and worship and the plainspoken church wisdom that remains a staple of quartet singing. "The Message" is an example of the latter. The lead singer relates how God delivered him from a life of poor choices and loneliness. Likewise, "Little Things" reminds us to not sweat the small stuff but instead show gratitude for "all the little things you do for me."
With its open strummed chord and tight vocal harmonies, "Hold On" teases the listener in thinking it will be a throwback moment, but when the synth enters, all bets are off. The keyboard player is good, but for my money, synth is overused in gospel quartet and can sometimes sound artificial. Nothing like electric guitar, electric bass, drums, and organ to keep the sound natural, pure, and righteously raw.
Some of the group members are better lead vocalists than others, but one cannot deny that the Boyz of Triumph are earnest in their rhythm and soul approach to the gospel.
Three of Five Stars
Pick: "Praise His Name."