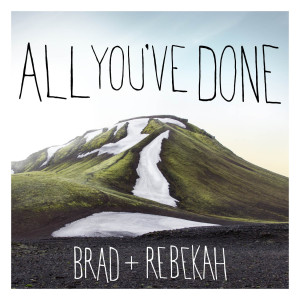 Brad + Rebekah
All You've Done
Discovery House (release date: June 2, 2015)
http://bradandrebekahmusic.com
By Bob Marovich
On their national debut album, All You've Done, Brad + Rebekah, a husband-and-wife praise team, loft their admiration and gratitude melodically, and vertically, to the Most High.
The album opens, appropriately, with "Wake Up." It is a Brad-led clarion call about resurrection day that uses power pop as a brisk slap, reminding listeners to be spiritually ready for the end of times at all times.
The duo's tuneful "When We Gather," "Be Here Now," and "Body of Christ" set the table for worship, while CCM-style praisers, such as "Children of the Living God," "Lift Your Hands," and Rebekah's lovingly-sung "Oh Such Love," deliver the spirit food.
Brad's vocals sound as if they come from the pop rock world, while Rebekah has a country pop sensibility to her singing. Although there are times on the album when one or the other leads a song, they duet on the title track. This song is a praise party that celebrates God's provision in their lives and, by extension, the listener's.
The album's final track is arguably its finest. Accompanied by the Watoto Children's Choir of Uganda, the couple's favorite ministry, "The Heart of the Father" blends a very simple message with a simple melody and insistent percussion that together create a congregational singalong opportunity. The song lingers long after the CD stops spinning.
Meeting originally at North Central University in Minneapolis, Minnesota, and working as a praise duo since 2003, the couple now lives in Phoenix, Arizona, where they assist with the music ministry at Christ's Church of the Valley.
Sparkling melodies and rolling, if sometimes similar, arrangements as well as crisp production by Josh Silverburg make All You've Done a compelling listen.
Four of Five Stars
Pick: "Wake Up," "The Heart of the Father."