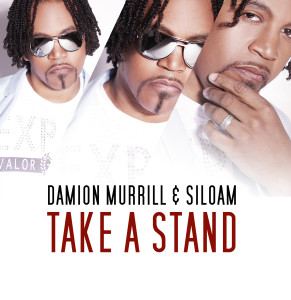 Damion Murrill & Siloam
Take a Stand
Divinity Music Group (release date: June 9, 2015)
https://www.facebook.com/damionmurrill2
By Bob Marovich
On his debut solo CD, Take a Stand, Damion Murrill demonstrates effective tutelage as a protégé of Donald Lawrence as he leads his own gospel group, Siloam (pron. Sill-OAM) on a baker's dozen of thoughtful and rousing selections.
Damion Murrill & Siloam possess that room-filling extroverted vocal sound representative of today's contemporary gospel ensembles. The musicians' complex chords and learned changes are also emblematic of this popular style. What is distinctive about Take a Stand, however, is its lyrical emphasis on changing the world. Rather than loft vertical praise upon vertical praise, the group laments the sorry state of society. The singers then encourage listeners to change the world by following God and giving the world, as they express on the theatrical "Show Them," ample helpings of "agape love."
Damion hails from the Murrill Family, whose album garnered GRAMMY and Dove nominations. As a member of Donald Lawrence and the Tri-City Singers, Damion was steeped in the neo-classical gospel tradition that has Richard Smallwood, Andrae' Crouch, and the Roberta Martin Singers as its direct lineage. One can hear Donald Lawrence music DNA explicitly in the album's "Tell the World."
The bluesy "Don't Cry" is another of the group's laments on the last days. The singers offer a litany of societal problems, from rudeness and war to "snow in the summertime," and worry that Jesus will cry when He returns. On the other hand, "Kingdom Come" recommends that nobody live by the concerns of the world but only by God's command because His kingdom is already here on earth. The new single, "Don't Let Me Fall," puts a quartet groove behind a message that we, too, mess up, but are humble enough to ask forgiveness and support. This song, incidentally, was playing over the operating room speakers as Murrill underwent a successful heart surgery.
The title track is an anthem to change the nation by following God's plan, and when we do, "He will heal the land." The song's lovely chorus would be even more effective sung with minimal musicianship so the message comes through clearly.
Take a Stand is a fine debut for a group with plenty of promise.
Four of Five Stars
Picks: "Take a Stand," "Don't Cry."