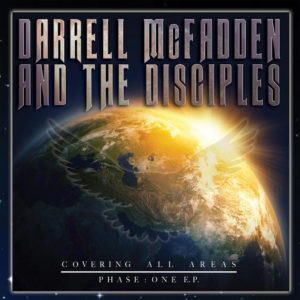 Darrell McFadden & the Disciples
Covering All Areas: Phase One (EP)
DMDMG (release date: April 25, 2017)
http://dmdaccess.com/
By Bob Marovich
This five-track EP by Brooklyn quartet Darrell McFadden & the Disciples may not, as its title suggests, cover all areas, at least in terms of musical styles.
What it does, however, is uplift the traditional sound in some instances and modernize it in others, and that's good enough for me.
Name checking another beloved Brooklyn group, Big Nick and the Gospel Heavyweights, the quartet covers the latter's "Come On and See About Me," complete with a slow strutting rhythm and acknowledged "good hot quartet singing." The Disciples follow that up with another trad sparkplug, "Lord You've Sure Been Good to Me," which features shouting and exclamations straight outta church.
McFadden and the Disciples also modernize the old school sound by dressing it up with heavier bass, keyboards, and the kind of complex drumming popular with choirs and small groups. "When He Calls Me" soaks the "When he calls me, I will answer" trope in a sweat-stained funk. "We Shall See Him," on which the group harmonizes about the day when all will be made whole, feels like an old hymn made new. Buoyed by cool harmonies, "God Will Provide" is about growing up in a churchgoing family but not understanding the importance of salvation until later.
With Covering All Areas: Phase One, quartet enthusiasts will be eager to hear the next two EPs leading up to the deluxe CD of the series.
Four of Five Stars
Pick: "Lord You've Sure Been Good to Me"