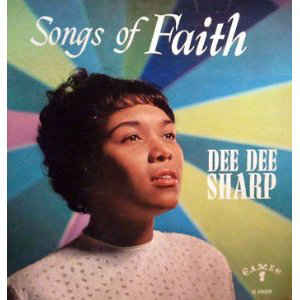 Dee Dee Sharp
Songs of Faith
Cameo Records / ABKCO Music and Records
(originally released in 1962; reissued October 21, 2016)
www.abkco.com
By Bob Marovich
Just before the Beatles all but changed the face of popular music, Cameo/Parkway Records was finding new ways to keep kids dancing.
From Chubby Checker's "The Twist" and the Orlons' "The Wah Watusi" to the Dovells "Bristol Stomp" and Dee Dee Sharp's "Mashed Potato Time," the Philadephia label was doing what Motown was about to do: recalibrate R&B music by African American artists for a multicultural audience.
Cameo producers Kal Mann and Dave Appell knew that Dee Dee Sharp was a product of that finest of singing schools, the African American Church. As a child, Sharp attended her grandfather's Third Eternal Baptist Church (she's still a member) and was mentored by no less a leading light than Willa Ward of the Famous Ward Singers.
So it seemed natural to feature Sharp doing an album of inspirational songs. After all, other pop artists had done it—from Roy Hamilton and Brook Benton to Nat Cole and even Johnny Mathis—albeit with mixed results.
In August 1962, Sharp recorded Dee Dee Sharp's inspirational album, titled Songs of Faith. Although she was backed by Philly gospel singers Willa Ward, Vivian Jackson, and Mary Wiley, she was also saddled with an orchestra, a studio choir, and mostly pop inspirational songs that would not be found in the Third Eternal Baptist's hymnbook. Songs such as "He," "I Believe," "You'll Never Walk Alone" "Climb Every Mountain," and "He's Got the Whole World in His Hands" were selected for her to sing because they had been covered frequently by artists representing a wide variety of genres.
The album was not a commercial success when released, probably because it wasn't gospel enough for religious radio announcers to program it, Sharp fans couldn't dance to it, and the young singer wasn't an established enough presence to entice the adult mainstream to purchase it.
Despite the producers playing it safe by whitewashing the album's material, Sharp gives the dozen songs her all, especially Thomas A. Dorsey's "Peace in the Valley" and Edna McGriff's "Heavenly Father." Her version of "You'll Never Walk Alone" could have been a single. Nevertheless, one could only guess how Sharp might have sounded recording such Baptist stalwarts as "I Need Thee Every Hour," "Precious Lord," and "Never Grow Old." And to have recorded them in her grandfather's church…but that was 1962 and the pop world worked differently then.
Last month, ABKCO reissued Songs of Faith in sonically crystal clear CD and digital formats so today's listeners can hear young Dee Dee Sharp sing praises. For what it is, Songs of Faith is lush, moving at times, charmingly nostalgic, and showcases Sharp's more serious side. The listener can hear in her sometimes vulnerable and other times declarative voice as much church training as the producers would allow her to share with her audience.
Professor Gayle Wald, author of the Sister Rosetta Tharpe biography, Shout, Sister, Shout, provides fascinating album notes that place the album in its particular time in history.  The album is worth hearing for Sharp's voice alone.
Four of Five Stars
Picks: "Heavenly Father," "You'll Never Walk Alone"