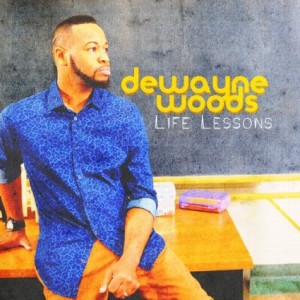 DeWayne Woods
Life Lessons
Soul Therapy Music Group (release date: February 3, 2015)
dewaynewoods.rocks
By Bob Marovich
Excellent songwriting, compelling melodies, thoughtful lyrics, and powerful singing combine to make Life Lessons DeWayne Woods's best project to date.
The album is fueled by a team of top-shelf songwriters, such as PJ Morton (son of Bishop Paul S. Morton), Donald Lawrence, Gerald and Tammi Haddon, and Estee Bullock, a founding member of Hezekiah Walker and the Love Fellowship Crusade Choir.
Some of Woods's most cogent life lessons on this, his first album in four years, can be found on "They Said…" and "With You." Both songs throw shade on self-doubt and living by what other people think or say.
Although written by others, those two songs in particular must have resonated with Woods. "Over the last few years," the "Let Go" vocalist has said, "I've experienced extreme ups and downs with life, depression, disappointment with my career and even the feeling of being left behind." As a sign of healing, on "Worryin' Never Helped," Woods admonishes not to sweat any stuff, small or large, especially that which is not in our control.
Featuring Anthony Hamilton and Dave Hollister, the current single, "Friend of Mine," is a catchy call-and-response with a playground rhythm, ideal for radio. Another album highlight is the Donald Lawrence-penned "Can I Lay In Your Arms," a tender ballad that recalls the classically-influenced songwriting of Andrae Crouch and Richard Smallwood.
Wilmington Chester Mass Choir alumna Avery*Sunshine lends her church-honed voice in a duet with Woods on "Take the Pain Away," which includes background vocals by Latrice Pace and Danetra Moore, two soloists in their own right.
Another churchy selection is the brief reprise of "Relyin'," which rolls along on the power of Quinton Ellis's fine vocals and impressive tonal shifts by organist Danny Wearing. Tammi and Gerald Haddon's "Try" is dramatic and minimalist, a call to change the world through brotherhood and peace. More gospel artists should write and sing songs like this.
Five of Five Stars
Picks: "Friend of Mine," "Can I Lay in Your Arms."