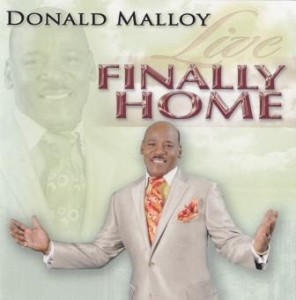 Donald Malloy
Live: Finally Home (2012)
www.donaldmalloyministries.com
By Bob Marovich for The Black Gospel Blog.
There's something about old-fashioned, good-time gospel music that alleviates troubles by its very presence.  It does not need complex, mind-altering, or heavy riffing to ease the burdens.
That's what Donald Malloy's sixth CD,
Live: Finally Home
, is about.  Offering a live performance in his hometown of Cheraw, South Carolina, Malloy gives traditional gospel just enough of a beat to keep in step with the times.  Stellar Award-winning Isaiah D. Thomas produced the album and wrote and arranged some of the songs.
Malloy gets the audience stirred up early.  During "Praise Break," he jokingly admonishes them, "If this were Michael Jackson in the late Michael Jackson Show, you'd be standing up in here!  If this were Prince, you'd be standing on your feet!  But the one who is your keeper…give God a…"  Before the audience response can build to its zenith, a lady screams in the spirit, the band starts up, and one imagines the aisles filling with shape throwers.
The lyrics are mostly cut from the uncomplicated cloth that clothes quartet songs.  On David Frazier's modern ballad "Storms," however, there's a twist.  Malloy leads his audience down the "don't be discouraged" path about the storms of life, but just when you anticipate that he will follow with, "but God will see you through," he sings instead about the internal strength and character that storms bring to our lives.
Malloy moves into contemporary gospel on selections such as "Storms," "Over Flow" and "Garment of Praise," but his best work is on the congregational sing along "I Know What Prayer Can Do," and the "Hymn Medley," where he dexterously delivers "Jesus, I'll Never Forget" and the spiritual "Standing In the Need Of Prayer" in an unhurried manner to organ accompaniment. "Prayer Will Fix It" is a mass choir composition by Rev. Milton Biggham that retains its Georgia Mass Choir horsepower.
It's hard not to have a smile on your face while listening to Live: Finally Home.
Four of Five Stars
Picks: "I Know What Prayer Can Do," "Storms."