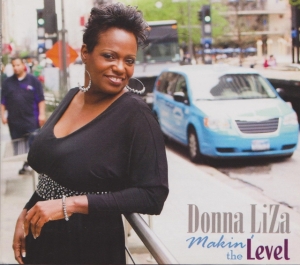 Donna LiZa
Makin' the Level
www.facebook.com/officialdonnaliza
By Bob Marovich
On "He's Got the Answer," the concluding cut on her eight-selection solo CD Makin' the Level, Donna LiZa gives us an autobiographical glimpse of a pivotal moment in her life.
Originally from New Orleans, Donna lost everything in Hurricane Katrina and became part of the post-hurricane migration to Texas.
She moved to Arlington and began singing with Bishop Greg O'Quin and iPraise. The group's musically multi-faceted After the Storm (2009), on which Donna led "I Appreciate U," earned five stars from the Journal of Gospel Music.
Bishop O'Quin produced Donna's solo CD and co-wrote some of the songs. Would that Makin' the Level had been as strong as After the Storm, but with the exception of "Meant It for My Good" and "He Cares," the songs rely too heavily on synthesized keyboard programming. The vocoder is unnecessary on "U Promised." A rootsier sound, courtesy of more live musicians, especially given Donna's Louisiana-Texas pedigree, would have enhanced the album's feel.
"He Cares," a song of comfort, is the album's strongest contribution in terms of composition and melody. Donna's delivery of Eddie Robinson's "Meant It For My Good" suggests the album would have been even stronger had she incorporated more songs by other writers. "Finally" is about finding the perfect love and as such is suitable for weddings.
Donna LiZa's vocal delivery on the album is pleasant in a jazz-pop kind of way.  It would be interesting to hear how she sounds live or tackling some of the selections in gospel's classic canon. Her resume, which includes work with the New Orleans Gospel Interracial Choir and Franklin Avenue Baptist Church Mass Choir, suggests that she has more to give.
Two of Five Stars
Pick: "He Cares."