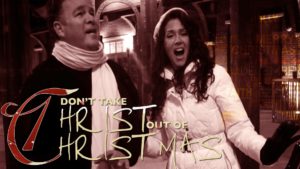 "Don't Take Christ Out of Christmas"
Angelo and Veronica
www.angeloandveronica.com
By Bob Marovich
Many Christmases ago, while driving through a suburb of Chicago, I passed a house with a giant lighted plastic Santa on the back deck. On the ground, in Santa's shadow, was a miniscule Nativity scene. For me, Enormous Santa towering over the manger scene like a Macy's Thanksgiving Day Parade float remains the epitome of Christmas consumerism.
This is just what husband-and-wife duo Angelo and Veronica are getting at in their single, "Don't Take Christ Out of Christmas." Opening with the jangle of jingle bells, the song evokes the easygoing harmonies and rhythms of a BeBe and CeCe Winans track. With a nod to Veronica's Latino heritage, the two toss in a line sung in Spanish.
The duo doesn't recommend getting rid of Christmas traditions such as Santa Claus, just to keep them in perspective, because removing Christ from Christmas doesn't leave you with mas.