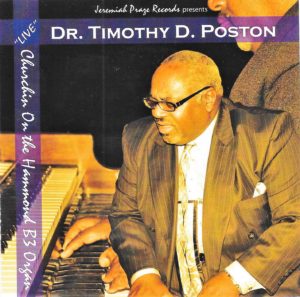 Dr. Timothy D. Poston
Churchin' on the Hammond B3 Organ "Live"
Jeremiah Praze Records (2007)
By Bob Marovich
Bay Area music minister and organist Dr. Timothy D. Poston's Churchin' on the Hammond B3 Organ "Live" may be several years old but, like the hymns he presents and the instrument he plays them on, it's ageless.
Even those only tangentially familiar with church hymnody will know the names of most, if not all, of the fourteen or so selections on the album. "Father I Stretch My Hands to Thee." "How Great Thou Art." "Pass Me Not." "Precious Memories." "The Old Rugged Cross." Many have been around for more than a hundred years.
Poston's keyboard technique is not overly effusive or exhibitionist. He is short on self-indulgent and long on steady and forthright—his playing is bluesy, not sanctified. In other words, if the late Billy Preston made the organ speak in tongues like a church mother slain in the spirit, Poston has the B3 offer devotion with the sprite solemnity of a Baptist deacon.
From the opening strains of "Precious Memories" to the album's final moments, Poston offers a contemplative, introspective array of hymns, played with plenty of blue notes to delight the live audience. Participants shout, clap, and exhort as if Poston is delivering a sermon. In many ways, he is (and he wouldn't be the first – see jazz organ wizard Jimmy Smith's 1958 album The Sermon). On the other hand, for "Glory, Glory Hallelujah," Poston has no choice but to jump right in and deliver a funky beat.  I would have loved to hear him open up on one or two more like that.
The album is a recital but not for solo Hammond B3 organ. Willis Hickerson Jr. assists on piano and Francois Lea on drums during some of the selections. Two tracks also include vocals: the lovely "Is Your All on the Altar" receives a passionate and full-throated vocal from Dion Williams. Jackie Tolbert comes in on a wing and a moan for "Pass Me Not," first singing with flower and flourish, then with gut-wrenching growls. Although we cannot hear them, I suspect some in the audience were singing along, also.
Whether peppy or somber, Poston's playing is joyously holy, just like church.
Four of Five Stars
Picks: "Glory, Glory Hallelujah," "Pass Me Not"