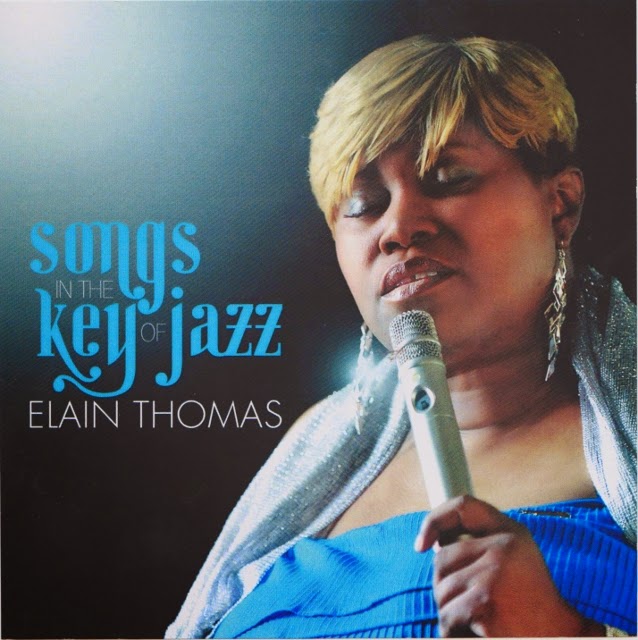 Elain Thomas
Songs in the Key of Jazz
(2013)
Despite the well-worn argument about "devil's music" vs. "God's music," gospel and jazz and blues—and now rock, soul, R&B and pop—are intertwined, fruits from the same musical tree. Elain Thomas' self-produced Songs in the Key of Jazz employs a smooth jazz patina, and a dab of small combo intimacy, to express inspirational messages through this popular medium.
Thomas's vocals are breezy, light, relaxed. Sometimes she likes to leap around the stave, hitting notes with staccato force like a hammer to a xylophone, as on the jazzed version of the hymn "I'll Fly Way." Sometimes she croons. Yet other times, as on the complex and dramatic "Don't Cry," she displays an array of emotions, including some gospel growls.
Thomas is at her best when she summons her deep alto tones. "Will U Luv Me?" is the best track on the nine-song CD for that reason alone. This selection is part of a set of four love songs for God and from God. God is, in fact, the protagonist on "Luv." He asks for rather than demands adoration. The other selections are personal expressions of Thomas's love for the Lord. "What Can I Do" is almost a make-up song, with Thomas admitting her faults and seeking forgiveness from God.
The background vocalists are Thomas's own voice multi-tracked, and her band of piano, synth, bass, guitar, drums, and organ gives the album its smooth jazz flavor. The excellent pianist stands out in particular, and I wish I knew who he or she is, but none of the musicians are credited by name in the liner notes. Hair, makeup, and wardrobe for the photo shoot are given credit. Photography, yep. Spiritual advisors, yep. Musicians, nope.
Nevertheless, Elain Thomas demonstrates on Songs in the Key of Jazz that inspiration can come from, and be expressed in, many musical hues.