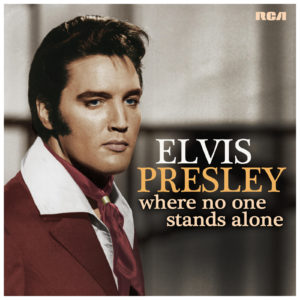 Elvis Presley
Where No One Stands Alone
RCA / Legacy Recordings (release date: August 10, 2018)
www.legacyrecordings.com
By Bob Marovich
When Elvis Presley became a national sensation in the mid-1950s, there were those who thought he was the devil personified, what with the hip shaking, sneering, and rock 'n' roll music.
They did not realize that the twisting and sneering phenom from Memphis grew up listening to southern gospel quartet singing on the radio and hung out by New Trigg Baptist Church to hear the choir of the Reverend W. Herbert Brewster. And in December 1956, when Elvis and fellow rockabilly stars Carl Perkins, Jerry Lee Lewis, and Johnny Cash held an impromptu jam session at Memphis's Sun Studios, the first songs they sang were gospel songs.
Released this month, 41 years after Elvis's passing on August 16, 1977, Where No One Stands Alone salutes the sacred side of one of the most influential popular singers of the twentieth century.
The album features original Elvis sides overdubbed with newly-recorded instrumentation and solos from some of the artists who sang with him during his twenty-three-year recording career. In the spirit of the Natalie Cole-Nat Cole duet on "Unforgettable," Elvis's daughter Lisa Marie harmonizes with her famous father on the Mosie Lister-penned title track.
The album alternates between quick tempo pieces and slower gospel ballads. Highlights include Andrae Crouch's sanctified "I've Got Confidence" and Darlene Love joining Elvis on the Leiber-Stoller song "Saved," first recorded by Lavern Baker in 1960. Others featured alongside Elvis on the collection include Dr. Cissy Houston, whose Sweet Inspirations once served as background singers, and the Imperials and the Stamps quartets, who join him on spirituals such as "So High" (aka "You Must Come in at the Door") and "I John" (aka "John Saw the Mighty Number"). Outside of Lisa Marie, however, the press info does not make it clear who sings on what. I suspect the physical product gives that information.
The collection focuses on the Vegas-sized '60s and '70s gospel sides versus Elvis's more intimate '50s gospel product, but the updating of the recordings gives the songs an oomph that makes the album remarkably appealing.
Four of Five Stars
Picks: "So High," "Saved," "I've Got Confidence"