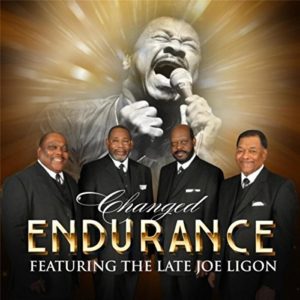 Endurance (feat. The Late Joe Ligon)
Changed
SCCME Records
(release date: September 29, 2017)
http://musicbyendurance.com/
By Bob Marovich
The Stellar Award-nominated gospel quartet Endurance of Houston, Texas, had the mixed blessing of being responsible for Joe Ligon's last known recording.
It was a mixed blessing because they got to work with the iconic lead singer of the Mighty Clouds of Joy, but I'm sure that if they had their druthers, they wouldn't have wanted it to be his last trip to the studio.
Nevertheless, on the title track, Ligon's hard shouting style fits perfectly with Michael Robertson's own. Like two deacons in spirited conversation, Ligon and Robertson trade comments about the old, hard times and the power of God's saving grace.
The loss of Ligon wasn't the only passing Endurance dealt with recently. During the recording of Changed, the group lost member Dave Botts. In addition, Robertson's wife, Mrs. Ina Laverne Turk-Robertson, passed away.  His 100-year-old father died, also.
But from the optimistic music on their CD, you would not know that Endurance was mourning, even if on "Daylight" they sing about better days ahead. "I Came" is a jovial piece about why they attend church (hint: it's not for form or fashion). On the single, "God is Making a Change," the men sing enthusiastically about an annoyed God "moving in and cleaning out." They open "One Day Soon" with the fabled strum of an open chord on electric guitar.
"Knock the Devil Out" finds Endurance not stomping on the devil's head but instead giving him a Holy Ghost upper cut. It's the homespun humor, grounded in spiritual conviction, which endears so many to gospel quartets. The groups don't take themselves so seriously that their fans can't relate to them. Or, as Hamil R. Harris of the Washington City Paper recently wrote, gospel quartet singing is the "blue collar worker's opera."
Endurance, like many modern gospel quartets, balances their musical mix to ensure they remain relevant for radio while not alienating their avid fan base or the legions of traditional gospel quartet enthusiasts. Thus, their lyrics are rooted in church maxims, their lead singing is hard, while their musicians are thoroughly modern.
But the group's mix of old and new goes beyond the sound. New: they have two new members, Wallace Grant II and Sean Webb, to fill Botts' space. Old: "Thank You Lord for Mama," from their I've Got a Home album, is included here.
Four of Five Stars
Picks: "Changed," "God is Making a Change"