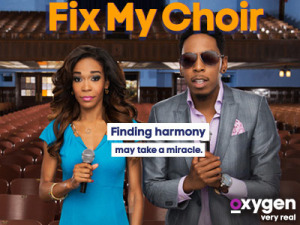 "Fix My Choir"
With Deitrick Haddon and Michelle Williams
Wednesday, November 19, 2014 – 10 p.m. ET/PT
Oxygen
www.nbcunv.com
By Bob Marovich
To borrow the main conceit from The Wizard of Oz, Deitrick Haddon and Michelle Williams helped the Harmonistic Praise Crusade of New Orleans find its courage on the premiere episode of "Fix My Choir."
On the series's latest episode, to air on Oxygen this evening, the choir-mending duo visit the beautiful oceanside community of Hermosa Beach, California, to help the Coast Music Gospel Choir find its soul.
Directed by singer and voice teacher Raffia Ford, the Coast Music Gospel Choir is mostly Caucasian—"white people who live in the suburbs," explains one of the founding members—small in number, and without many male members. The adjectives used to describe their performance include "stiff" and "square." Since the singers do not pay dues, the choir is also having financial problems. One of the founders posits that the group might not even make its first anniversary.  Cut to pained expressions.
Williams secures the choir a singing gig at Fiesta Hermosa, a popular local outdoor festival.  Here opportunities for future paid gigs await, but the group has five days to get its swagger on.
Getting the Coast Music Gospel Choir ready for Fiesta Hermosa is daunting, not so much because of the internal drama—though there is some (this is reality television, after all)—as much as the fact that the group does not quite know what it means to be a gospel choir. One member admits to never having seen a gospel choir perform live before. Therein lies the challenge.
As I said in my review of the series premiere, "Fix My Choir" is worth watching because it is not about over-indulged people behaving badly but about real people trying to meet a shared goal. Once again, Deitrick Haddon is the dominant personality, with Michelle Williams playing a secondary role. She rarely takes charge or offers much in the way of insights. I, for one, would like to see Williams better utilized in future episodes.
It occurs to me that "Fix My Choir" is in the enviable position of becoming a franchise, much like the School of Rock. That is, it can be localized, where choir experts in regions throughout the country help fix choirs in their area. I could only imagine how helpful it would be to have the likes of Percy Bady and Malcolm Williams or Dexter Walker showing Chicago church and community choirs how it's done (for compensation, naturally).  So says the man behind the curtain.