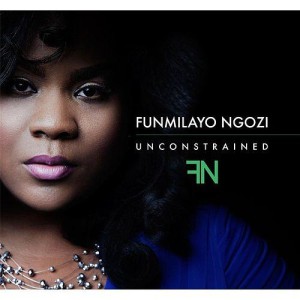 Funmilayo Ngozi
Unconstrained
Unconstrained Music (2015)
www.funmilayongozi.com
By Bob Marovich
A cursory look at Nigerian singer Funmilayo Ngozi's name might suggest that her music is steeped in the African gospel tradition.
In actuality, Ngozi lives in Augusta, Georgia, and studied and is a music educator in the U.S.  She served as a background vocalist on Trey McLaughlin & Sounds of Zamar's Limitless album and the Beulah Grove Baptist Church's Live at the Grove CD.
Ngozi's debut solo album, Unconstrained, is true to its title in more ways than one.  Although the title refers to unfettered worship and praise, the songs are not constrained by any single music style. Her worship songs have the very American flavors of CCM, urban AC, and occasional flights of techno. Ngozi shifts from the melodic ballad "Lord You Reign" to Judah club-ready "Shine," and gospel-centric selections such as the gutsy "Wait on Jesus," where she declares, "I've been dealing with this issue for a long time," and evokes Jesus as the remedy for all trials. "One Word," with its warbling B3, cuts a tough quartet groove.
Ngozi does her own background vocals, which explains the crystalline harmonies that dot the project.
The album's highlight is a big production version of Kenneth Morris's "My God is Real." The performance packs plenty of wallop as Ngozi shouts, squalls, and improvises over this classic.
Ngozi has a flexible voice—breathy and gentle on the ballads and roaring on the gospels—though with the exception of "My God is Real" and "Wait On Jesus," the songs are conventional and do not capture the full range of her abilities, though she ekes as much utility out of them as possible.
Nevertheless, Unconstrained benefits from solid production, courtesy of Ngozi and Chris Thompkins; interesting arrangements; and plenty of spiritual entertainment.
Three of Five Stars
Picks: "My God is Real," "Wait On Jesus."