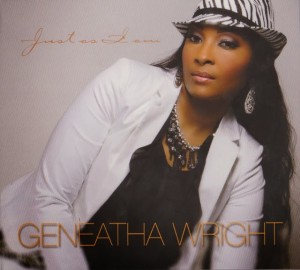 Geneatha Wright
www.godfathergospel.com
By Bob Marovich for The Black Gospel Blog
Geneatha Wright of South Florida offers Just As I Am. Her style falls within the Florida multicultural P&W sound made popular by the likes of William McDowell, Javen, Madelyn Berry, and sisters Martha Munizzi and Mary Alessi.
The album was recorded live at the Bible Church of God in Boynton Beach, Florida, where seven-year-old Geneatha Daughtry started her music ministry by joining the Little Singing Angels Children's Choir.  She went on to sing with the Daughtry Family and became part of gospel legend Rev. Timothy Wright's family when she married his son, John David Wright.
Geneatha's soprano is light, soft, pop-inspired.  When she does increase in volume, her voice takes on a rock texture without the high melismatic drama of traditional gospel singers.  She receives ample support from a smooth background vocal group and extroverted musicianship.  "Have Faith" is the strongest of the album's three single selections for its easy but vigorous tempo and encouraging message.
Members of the Wright Family play a significant role in the album as writers, co-writers, and musicians.  Ironically, both John David and Geneatha suffered tragic losses of parents to automobile accidents—Rev. Timothy and Betty Wright and Elder Horace Daughtry Sr., respectively—within two years of one another.  John David Wright shares a few of the sad moments but also the inspirational insights of these personal trials during the performance of his song composition, "Everything Will Be Alright."
Though the album was recorded live, the ambient sound of the audience is potted down except during intros and reprises, most notably on the "Just As I Am" intro and outro, where Geneatha churches it up to David Wright's warbly B3.  Strikingly, these and the intro to "We Praise You Lord" are the album's most emotionally charged moments.  They suggest that a live recording of more traditional fare (perhaps a tribute to Revs. Wright and Daughtry), is in order.
Three of Five Stars
Pick: "Have Faith"