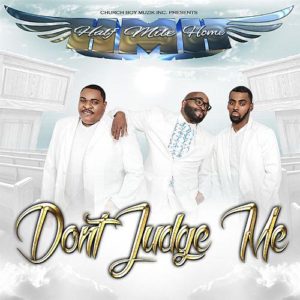 Half Mile Home
Don't Judge Me
Church Boy Musik / Blacksmoke Music Worldwide
(release date: July 8, 2016)
www.halfmilehome.com
By Bob Marovich
Oh, the irony in reviewing a CD called Don't Judge Me.
That's the name of Half Mile Home's fourth and latest full-length project, which repackages some of the Ohio trio's earlier cuts, a couple of live performances, and six new songs that bear the group's soul-funky "rhythm and light" brand of Christian pop music.
The new songs are sandwiched in between mixes of former releases, presumably to give newly acquired fans an updated sample of retro HMH. The group slows the rhythm of "Anything" (featuring April Nevels) down to a brisk shuffle and gives "Paid" (with Lejeune Thompson) a more acoustic feel. Meanwhile, a disco-fied version of the group's single, "So Good," itself a reworking of Billy Preston's "Nothing From Nothing," all but sounds like a different song here.
Among the new songs, two standouts are "Show Love" and "You Are." The former shares the separate but equally difficult trials of a homeless person and a low-income single mother as reminders that it is not good enough to say we love, but we need to show it by being a blessing to others. The latter is a lovely praise ballad with parallel harmonies reminiscent of early Boyz II Men.
"More than Enuff," the album's first single, is a song with a sweet melody and lyrics declaring that no matter how hard the problem is, it's not too tough for Jesus. In fact, Don't Judge Me is long on encouragement, on keeping the faith and depending on Jesus when times get rough. The advice is the same on "Breakthrough:" when it's time for your blessing, it's time, so don't worry.
Despite the keep-your-chin-up messages on the album, the men of Half Way Home show that they, too, are vulnerable to moments of despair and frustration. "How Much Longer" finds the group asking the Lord for speedy intercession in personal and societal challenges that seem to have no solution and no end.
Don't Judge Me is sure to satisfy the group's new and longstanding fans.
Three of Five Stars
Picks: "Show Love," "You Are."