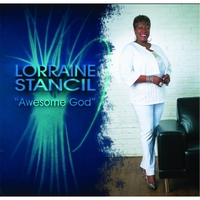 "Holy is the Lord"
Lorraine Stancil
From the EP Awesome God
Anointed Sounds Records
www.cdbaby.com/cd/lorrainestancil1
Although Lorraine Stancil has earned a reputation as a fiery gospel singer, as on "Something About that Name" and "Awesome God," she can deliver anthems with dignity and fullness of tone.
"Holy is the Lord" is a good example of her more deliberate side. On this live selection from her Awesome God EP, Stancil hits high notes over the stave like a veteran church singer.
Lorraine Stancil is a veteran gospel singer, having worked with Hezekiah Walker and the Love Crusade Choir, Youthful Praise, and the legendary Angelic Choir of First Baptist Church of Nutley, New Jersey, where she was under the tutelage of the late Rev. Lawrence Roberts.