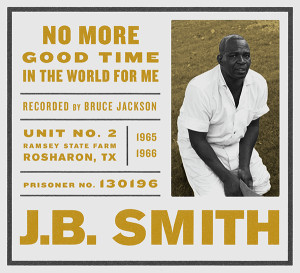 J. B. Smith
No More Good Time in the World for Me
Dust to Digital (2015)
www.dust-digital.com
By Bob Marovich
There is something bone chilling about hearing lonesome blue notes echoing off prison walls.
That's what folklorist and historian Bruce Jackson captured when he recorded the unaccompanied singing of Mr. J. B. Smith, Prisoner No. 130196, at Ramsey State Farm in Rosharon, Texas, in 1965 and 1966.
Only three of the many field recordings Jackson made of Smith were released at the time. Thanks to No More Good Time in the World For Me, from Lance Ledbetter's Grammy Award-winning Dust to Digital imprint, we now have Smith's three previously released field recordings plus an additional fifteen, which include three songs with religious overtones. Together, they provide what Nathan Salsburg calls in his superbly-written album notes "an epic of the Southern prison-farm experience."
No More Good Time is a fascinating glimpse into an age when inmates, mostly older African American men, sang unaccompanied songs to set a safe and reasonable work pace and keep their minds occupied during the long, arduous work day "from can't to can't—can't see in the morning until can't see at night."
Sentenced to forty-five years in prison for the murder of his wife because of "insane jealousy," Smith developed a wide repertory of work songs, some of which he wrote himself. Although the melody remains consistent from song to song, the lyrics, theme, and tempo change. "His songs were confessions of regret, contrition, impotence, despair," writes Salsburg. Lyrics include ruminations such as "If I had the good luck, buddy, hey, oh like I had the bad / I'd win a barrel of dollars and a keg of halves" and "they accuse me of forgery [but] I can't write my name."
While most selections cover secular topics, three are sacred. Smith ties his familiar melody to a version of the gospel hymn, "At the Cross," and evokes a lining out deacon on "Go Ahead." Contrary to its title, "Drinking that Wine" is not about a night at the tavern but a sacred blues about making it to glory, drinking that heavenly wine, all to a rhythm suited to tree cutting.
Of the eighteen selections, only one, "Sure Make a Man Feel Bad," includes three other inmates who make up a quartet, alternating between monophonic singing and rudimentary harmony.
Perhaps the most plaintive line in the collection is from the twenty-three minute "Ever Since I Been a Man Full Grown:" "I want some missionary woman, oh woman, please pray for me / Don't pray that I go to heaven, just pray that I go free." No other line expresses more concretely and poetically how badly Smith wanted out of the state farm.
Indeed, Salsburg details how Jackson intervened successfully on Smith's behalf, persuading the State of Texas to parole the prisoner. Upon his release, Smith earned a spot at the Newport Folk Festival and continued to enjoy his freedom until a parole violation landed him back behind bars.
Stretching out some songs for thirteen, fourteen, and even twenty-three minutes, J. B. Smith sings like a man who has nothing but time. No More Good Time in the World for Me is a mesmerizing aural experience that, if you are paying any attention at all, will leave you emotionally depleted.
Four of Five Stars
Pick: "Go Ahead."