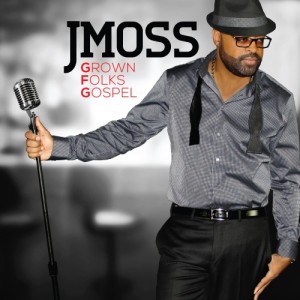 J Moss
Grown Folks Gospel
PAJAM (released November 25, 2014)
www.pajam-music.com/jmoss.html
By Bob Marovich
The next generation of Detroit's Clark-Moss gospel dynasty is growing up.
For J Moss, son of Bill and Essie Moss, that doesn't mean he's embracing his parents' traditional gospel style.  His music is just settling down, embracing a soft R&B quiet storm kind of pacing, and his lyrics becoming more contemplative.
Thus, it should come as no surprise that Grown Folks Gospel is J Moss's most mainstream effort to date. It grapples with a world in which there are more questions than answers.  Album cuts such as "It Is What It Is" and "Beyond My Reach" articulate this well, and add that faith and belief serve a person well in such a world. Meanwhile, "Love Like That" and "Nothing" (featuring PJ Morton, another grown up next gen from a gospel music/ministerial family) wonder aloud, but rhetorically, why God loves us, despite our faults.
Featuring Fred Hammond, "Beyond My Reach" is the album's highlight, a thoughtful and musically understated ballad that acknowledges our littleness in a world of big questions and few clear answers.  In the context of the other album cuts, the effervescent single, "Alright OK," is a wise reminder to not sweat the small stuff.
Make no mistake: despite the laid back vibe, the album still features the PAJAM swagger.  21:03 assists on "Everyday," for example.  But in general, the album takes the J Moss cutting-edge groove down a notch.  Songs like "Hanging On," which features posthumous work by jazz artist Wayman Tisdale, is smooth jazz, not the electric jams one typically associates with J Moss.
On the final track, "Faith," J Moss declares that he doesn't need awards, fancy cars, or super stardom. All he needs is faith. Sage words from a grown-up gospel singer.
Four of Five Stars
Picks: "Alright OK," "Beyond My Reach."
Click here to listen to JGM's interview with J Moss about Grown Folks Gospel.