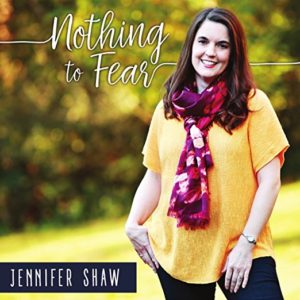 Jennifer Shaw
Nothing to Fear
This Side Up, LLC (release date: February 20, 2018)
www.jennifershaw.com
By Bob Marovich
Jennifer Shaw is a Christian singer-songwriter who doesn't limit her lyrics to vertical praise. In fact, she traverses socially-relevant issues on Nothing to Fear, her first full-length album in six years.
There appear to be three connecting threads holding together the album's combination of new song compositions and a hymn arrangement. One, and perhaps the greatest of these, is love—Shaw's love for children, for God, and God's love for all creation. For example, "How Far Love Goes" looks in wonder at a God who would trade "a crown for a cross." "Love in Action" is about true discipleship: living to serve humankind.
A second thread is life. Shaw uses her own experiences over the past two years as fodder for the lyrics. Nowhere is this more telling than on "Forever Family," a paean to adoption. Shaw and her husband have added to their three biological children three adopted Chinese children with medical issues. The third thread is doubt and fear of the unknown, but also comfort that faith in God gives us, as the title track expresses, "nothing to fear."
Melodically, the songs on Nothing to Fear are pretty and even sweeter when accented with strings, such as on "A Greater Love." This track, which likens the love of a parent for a child to the love of God for us, is the album's finest selection because it showcases Shaw's soaring vocals. I don't know Shaw's genealogical background, but I hear a Scandinavian lilt in her soprano.
For all the loveliness in her voice, Shaw is a straightforward lyric reader, allowing the melody and arrangement to do their thing. This is how she renders the hymnbook staple, "It Is Well With My Soul." For me, however, Dr. LouDella Evans Reid's arrangement of "It Is Well," and her direction of it with Chicago's Traditional Choir and other ensembles, beats all comers.
Outside the studio, Shaw is a major advocate for children around the world, especially those struggling with intellectual disabilities or illness. She works with Compassion International and is an in-demand speaker about parenting children with special needs. As Mahalia Jackson is alleged to have said, there are two kinds of people: those who "sing and say" and those who "do." Count Jennifer Shaw among the do-ers.
Four of Five Stars
Picks: "A Greater Love," "How Far Love Goes."