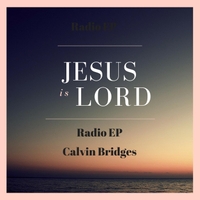 "Jesus is Lord"
Calvin Bridges
From the PNEUMA/Spirit Recordings, Inc. EP Jesus is Lord
(release date: July 18, 2017)
https://store.cdbaby.com/cd/calvinbridges15
By Bob Marovich
Back in February of this year, Greater Harvest M. B. Church on Chicago's South Side was the live recording headquarters for the award-winning gospel singer-songwriter Calvin Bridges ("I Can Go to God in Prayer").
Among the songs he introduced that evening was "Jesus Is Lord." This radio-friendly R&P song evokes the effervescence of the artist himself in its periodic staccato blasts of funk from the musicians and tight call-and-response between Bridges and his choir.
Bridges wraps his meaty voice around the many names for Jesus and builds the atmosphere to where the aggregation has no choice but to ignore the song's natural conclusion and keep on praising.