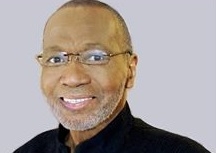 "Just Jesus"
Bishop Jonathan Greer
Released February 3, 2015
Now when is the last time you heard "Just Jesus" sung as a single?
Thank God for Bishop Jonathan Greer II and his choir. They righteously reprise the good old Zion song, which Greer did originally with the Cathedral of Faith Choirs in 1994. The new version comes complete with shouting vamp and rocking chair 12/8 meter.
Raised in Chicago, Bishop Jonathan Greer was called to ministry, first in Nashville, then Atlanta, where he is currently Presiding Bishop of Divine Love Fellowship Church. While at Cathedral of Faith, Greer and the Cathedral of Faith Choirs, under the direction of Maurice Culpepper, recorded Billboard-charting albums for Savoy, launching the career of LaShun Pace in the process.
"Just Jesus" was produced by Dorothy Norwood and KP Productions.