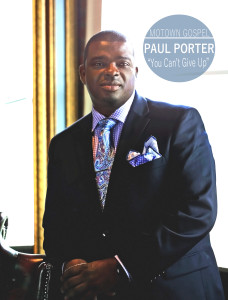 "You Can't Give Up"
Paul Porter
From the Motown Gospel CD F.R.E.E. (2014)
www.motowngospel.com
Paul Porter lets his quartet roots show in this bluesy gospel song about staying encouraged in the midst of unbearable personal circumstances.
Backed by a quartet, Porter sings and eventually shouts lyrics that contain what I call the spiritual 'but': sickness might be "getting worse and you don't know what to do," or "life for you has been so rough," but hold on, put your trust in the Lord, and don't give up–he will see you through.
Porter knows whereof he sings. Stricken with a brain aneurysm in 1996, the founding member of the Christianaires quartet lost his memory as well as the ability to walk and talk. By 2006, however, he had regained his speech and the use of his legs. Soon after, he stepped out on his own as a solo artist, which resulted in his 2013 signing by Motown Gospel.
Paul Porter didn't give up, and see what happened?