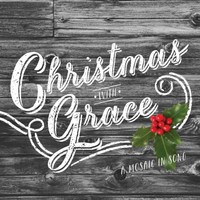 "Oh Come All Ye Faithful"
Grace Covenant Worship
From the CD Christmas With Grace: A Mosaic in Song
www.gracecov.org
Grave Covenant in Chantilly, Virginia, is a "multi-ethnic, multi-site, multi-racial" church with a dynamic music and arts department.
"Oh Come All Ye Faithful," from the church's Christmas release, is delicately orchestrated with strings but also features a firm rhythm section. You can feel the lush harmonies, with flourishes of big round gospel chords, washing over the congregation. Soloists Candice Hinton, Robert Ellis, and songwriter Tifani Wilson assist in raising the carol's temperature from the first note to the last. Rendered with the heartbreaking beauty of the Brooklyn Tabernacle Choir.