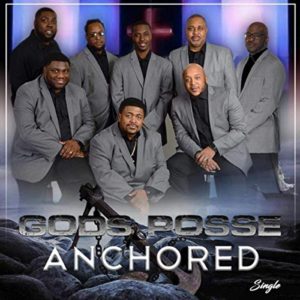 "Anchored"
God's Posse
Independent (release date: January 30, 2019)
By Bob Marovich
Acknowledging at the outset that "Anchored" is actually an old song with a new twist, God's Posse of Chicago proceeds to provide an up-tempo reading of said old song, complete with soft harmonies, a lead-trading vamp, and contemporary arrangement.
The metaphoric "Anchored" teaches that, in the midst of life's storms, it's best to hitch one's line to the Lord. The single is yet another reason why God's Posse is among the city's top gospel quartets.
God's Posse, itself anchored by the music tutelage of the Windy City Four's Nelson Larkins, who founded the group twenty years ago, was a 2018 Stellar Award nominee for Traditional Duo/Group of the Year.