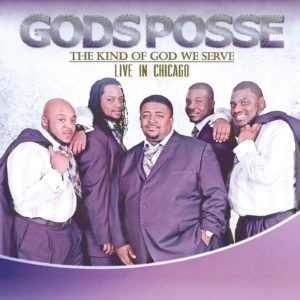 "Your Blessing is on its Way"
God's Posse
From The Kind of God We Serve: Live in Chicago (EP)
Trewworks Music Group/Denzell Music Group
By Bob Marovich
The Chicago-based quartet God's Posse offers a traditional drive-tempo workout in "Your Blessing is on its Way."
The infectious backbeat, the singers' palpable enthusiasm, the muscular music, and the live audience's handclapping are ideal complements to the song's message of hope and encouragement.
It also points out the importance of recording gospel music in front of an audience or congregation. Gospel music recorded in the studio is fine, but there's something magical about hearing a singer, group, quartet, or choir with a live audience.
God's Posse, founded in 1999 by Nelson Larkins, recently received Male Quartet of the Year from the Texas Gospel Music Excellence Awards.  They are nominated for five Rhythm of Gospel Awards and a Stellar Award this year.