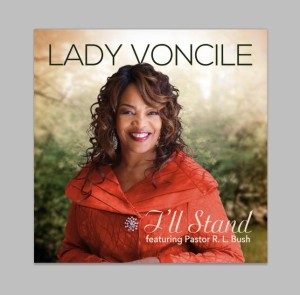 "I'll Stand"
Lady Voncile feat. Pastor R. L. Bush
http://gloryboundrecords.bigcartel.com
To the whirring of an organ and sassy opening licks from a guitar and piano, Lady Voncile Belcher delivers this church-ready solo about faith with flatfooted conviction.
She hands the microphone to the Reverend R. L. Bush, who gives the verse a thorough working over in his preacher/quartet leader rasp. Later, they duet while the background vocalists reply antiphonally.
If this performance was recorded live, you'd hear the saints in the background, shouting encouragement.
The release concert for her latest CD, Phenomenal, on which "I'll Stand" is included, takes place at The Faith Center in Tucker Georgia, on Saturday evening, June 20.  See Lady Voncile's Facebook page for more information.