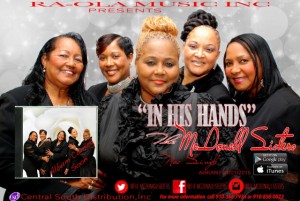 "In His Hands"
The McDonald Sisters
Ra-Ola Music Inc. (release date: April 1, 2015)
A family group with more than 30 years of gospel singing experience, the McDonald Sisters of Fayetteville, North Carolina, continue to represent traditional gospel quartet with their new single, "In His Hands."
To an aisle-walking, handclapping tempo propelled by distinctive southern soulfulness, the ladies put their burdens and their deliverance in God's hands. They instruct listeners to do the same.
They know whereof they speak. Members Valerie, Deborah, Evelyn, Pamela, and matriarch Priscilla have survived cancer, a stroke, and a ruptured appendix, among other challenges. The key word is "survived." "In His Hands," which will be included on a forthcoming album, is their collective testimony to the power of God to make a way out of no way.
Read more about the McDonald Sisters here: Fayetteville's Fantastic Five.