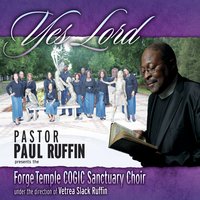 "Yes Lord Yes"
Pastor Paul Ruffin & the Forge Temple COGIC Sanctuary Choir
From the Heavenly Spirit Music CD Yes Lord (2014)
www.cdbaby.com/cd/pastorpaulruffinpresents
Using the Church of God in Christ's signature "Yes Lord" chant as its springboard, Pastor Paul Ruffin and the Forge Temple COGIC Sanctuary Choir of Birmingham, Alabama, construct a gospel piece out of a staccato declaration to serve the Lord.
Vetrea Slack Ruffin, of the singing Ruffin Family, directs the Forge Temple choir and wrote this song, which features enough bluesy spots and classic chord progressions to pierce the heart of any traditionalist. Yes, Virginia, old school gospel songs are still being written and performed. "Yes Lord Yes" is proof.