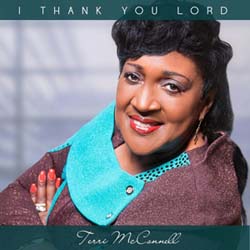 "I Thank You Lord"
Terri McConnell
Royal T Records (release date: August 29, 2017)
www.terrimcconnell.com
By Bob Marovich
From its southern-fried funky beat to Terri McConnell's wizened alto, "I Thank You Lord" is as traditional and delicious as sweet tea.
McConnell gushes with gratitude to God for creating a path for her, but her blessings are not over yet. Quoting 1 Corinthians 2:9, she sings that "eyes have not seen nor ears heard" what God has in store for her. When she moves into "makes me wanna moan sometimes," she has us.
A two-time Rhythm of Gospel Award winner, Terri McConnell is originally from Oklahoma.  As a youth, she formed a gospel group comprised of her sisters; they appeared as the Lewis Sisters.  A wife and mother of five, McConnell worked in nursing prior to launching her solo gospel music career. Her downhome style is evocative of the late Leomia Boyd.