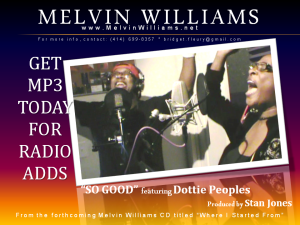 "So Good"
Melvin Williams feat. Dottie Peoples
From the forthcoming album Where I Started From
www.MelvinWilliams.net
Melvin Williams of the Williams Brothers quartet joins the fiery Dottie Peoples in a bluesy gospel "take 'em to church" moment. The Stan Jones-produced "So Good" is a litany of the many ways God has been good to His people throughout the ages, today, and into the future.
By mid-recording, the two singers turn downright evangelistic, instructing the listener in urgent, direct tones to mind well their words. Someone who can "rescue Daniel from the lion's den," "turn water into wine" and "give eyesight to the blind" can sure enough "put food on your table." The very notion of God's continued blessings drives Peoples to emit a dog-whistle high note.
The single is the first release on Williams's new label, Melvin Williams Entertainment. He celebrates 55 years in gospel music this year and remains committed to "preserving traditional gospel music because it's not getting enough attention from the public."