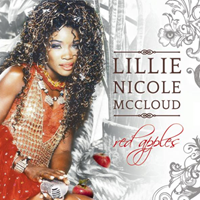 "Alabaster Box"
Lillie Nicole McCloud
From the album Red Apples (release date: May 27, 2015)
https://store.cdbaby.com/cd/lillienicolemccloud
By Bob Marovich
In 2013, Lillie Nicole McCloud of Orlando, Florida, wowed all four judges and the entire audience on Season 3 of the television competition show The X Factor with her rendition of CeCe Winans' lovely Biblical ballad, "Alabaster Box."
McCloud's dramatic pacing channels the late Whitney Houston and captures the gravitas of the story in Matthew about the woman who anoints Jesus's head with oil. But the song, which highlights the tale's message about the power of worship and salvation, also has strains of social meaning in a world that loves to rush to judgement, just as Jesus's apostles did that day.
Life imitates art. After McCloud's extraordinary performance on The X Factor, details emerged about her former career as an R&B singer and recording artist. Many griped that the show was being disingenuous by presenting McCloud as an unknown when she had hit singles. But McCloud had given up many career opportunities to raise a family and was, along with "Alabaster Box," unknown to most of the audience.
So when she sings, "You don't know the cost of my praise," on "Alabaster Box," included on her 2015 self-released album Red Apples, she reminds us that everyone has a story, and perhaps we ought to listen with our heart before offering a verdict.