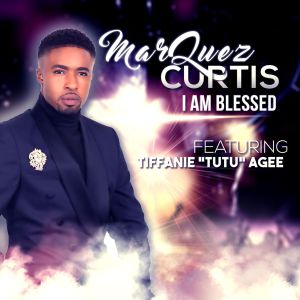 "I Am Blessed"
MarQuez Curtis feat. Tiffanie "Tutu" Agee
Mary Elizabeth Music Group (2017)
By Bob Marovich
For those wondering what Tiffanie "Tutu" Agee of the Truthettes has been up to lately, it's joining MarQuez Curtis in giving effusive testimony for blessings bestowed by God—blessings that neither singer takes for granted.
That's the premise of "I Am Blessed," a spirited hand-clapper that blends the sleekness of contemporary gospel with the churchiness of quartet singing, complete with a vamp that could have gone on even longer.
From Memphis, Tennessee, MarQuez Curtis attends Light of Glory International Church (LOGIC) under the leadership of Pastor Stephen Brown. His full solo album is in the works.