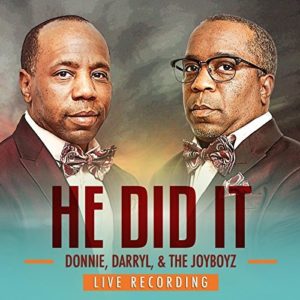 "You Can Call on Jesus"
Donnie, Darryl & the Joyboyz
From the JSound Records album He Did It
(release date: October 21, 2016)
By Bob Marovich
From Nashville, Tennessee, Donnie and Darryl Frierson are known as the "smallest men in gospel" because they each hit four-and-a-half feet tall and not much more than that.
But good things come in small packages, and the brothers prove it on the 2016 selection, "You Can Call on Jesus."  It's a joyous Sunday morning shouting song with a quartet backbeat that has the live recording audience clapping along. The Friersons sing the encouraging word about God's constancy while backed by a group that provides steady responses to their passionate calls.
Donnie, Darryl & the Joyboyz have been on the gospel scene since 1982, working formerly under the names the Gospel Midgets, the Joys of Nashville, and the Joy Boyz. They are best known for their hit, "Too Blessed to Be Stressed." No novelty act by any stretch of the imagination, these fellows can sing!