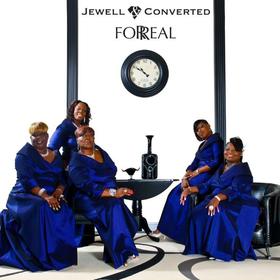 "Hallelujah"
Jewell & Converted
From the Malaco CD For Real
www.malaco.com
"Hallelujah" is an up-tempo praiser from St. Louis-based female quartet Jewell & Converted.
About a third of the way through, the lead singer gets downright Pentecostal, shouting and squalling about how she wants to "get her praise out," then performs an extended call-and-response with the rest of the ladies, who maintain steady rhythmic harmonies. The musicians provide the quintessential hip-slapping accompaniment, complete with drum/bass backbeat and organ flourishes. A show stopper.
Jewell & Converted organized in 2001 and is comprised of Jewell Taylor, Lydia Jones, Ni'Asia Hatch-Boyd, and Bablen White.