"Take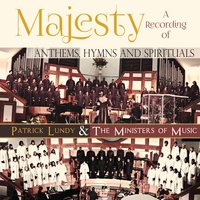 It to the Lord in Prayer"
Patrick Lundy & the Ministers of Music (2014)
From the CD Majesty: A Recording of Anthems, Hymns, and Spirituals
www.plundymom.com
Incorporating the semi-classical flourishes of Richard Smallwood and Donald Lawrence, Patrick Lundy and the Ministers of Music give Rev. Nolan Williams' "Take It to the Lord In Prayer" a lush, restorative reading.  The voices rise and fall with the effortlessness of breathing.
Though the melody is different, the lyrics pull verses from Joseph Scriven's nineteenth-century hymn, "What a Friend We Have in Jesus." Lundy and the MOM proclaim, "Some things we have not because we ask not," meaning we forfeit peace by not praying, though this is good advice for even the most secular of listeners.
Patrick Lundy & MOM organized twenty years ago next month at the Ebenezer AME Church in Fort Washington, Maryland. Among its highlights is singing at the Inauguration of President Barack Obama.