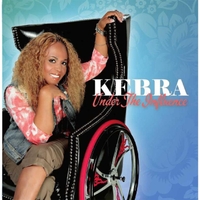 Kebra
Under the Influence
Mokeb Entertainment (2014)
www.kebramoore.com
By Bob Marovich
It is no understatement when, on her new EP Under the Influence, singer-songwriter Kebra Moore sings "I have a testimony."
On Christmas Eve 1999, Kebra, her fiancé, and fourteen-month-old son were heading home to Arkansas from New Orleans, where they were making final wedding preparations, when they were involved in an auto accident. While the fiancé and son escaped without injury, Kebra was left a paraplegic.
Turning tragedy into possibility, Kebra became a spokesperson for the disabled. She was named Miss Wheelchair Mississippi 2013 and earlier this year launched the Beautiful Campaign to help the disabled to reclaim their lives physically and psychologically.
The campaign is named after "Beautiful," a single from Under the Influence. A thematic cousin to Christina Aguilera's song of the same title, Kebra's "Beautiful" underscores her commitment to the importance of inner splendor.
Musically, Kebra embraces the urban inspirational/EDM sound, her voice a study in urgent intensity. Perpetual motion praise songs such as "Get Up" and "Never Let Him Go," another single from the EP, evoke the audience-participatory antiphonal music of Mary Mary and Trin-i-tee 5:7. An electric remix of "Testimony" by DJ Jazzy J (bonus track) is ready made for praise dancing. As such, Under the Influence will be of particular interest to younger worshippers who prefer inspirational messages with electric drive.
Three of Five Stars
Picks: "Beautiful," "Testimony."