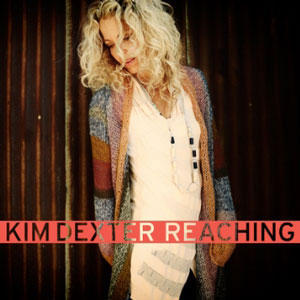 Kim Dexter
Reaching (released June 2014)
www.kimdexter.com
By Bob Marovich
Completed thanks to a successful Kickstarter campaign, Reaching is the sophomore effort of singer-songwriter Kim Dexter, the Phoenix-born former lead singer of the Christian rock band, Mayfair Laundry. Reaching is a melodically lovely, atmospheric set of praise songs that pulls from a musical palette of rock, pop, new age, folk, and CCM.
Dexter intended the album to be a worship project, and she has succeeded. The praise is vertically directed and gushes from an overflowing soul. When on the airy "Freedom, " she sings,  "This is my living in the happy ever-after…this is my living with a heart alive with wonder," her happiness takes on an almost childlike innocence.
Most of the ten selections glide along on Dexter's whispery, wide-eyed vocals, crisp piano work, and a pop-rock foundation that evokes the songs one hears during pivotal moments on television serial dramas.  Two rockers–"In This New Year" and "We Lift Our Eyes"–evoke her tenure in Mayfair Laundry.
On the title track, which depicts God as a protective covering of love over His people, Dexter pays subconscious homage to Sarah MacLachlan, one of her acknowledged influences, in the way she accents certain notes.  "Pour Out Your Love" gets an alt-country makeover courtesy of an understated banjo and pedal steel. The song's chorus of "hallelujahs" cries out for a gospel choir to provide background vocals.
Dexter resides in Orange County, California, with her husband, Grammy-nominated musician and producer Paul, and their two children.  In her "happy ever-after."
Four of Five Stars
Picks: "Pour Out Your Love," "Reaching."