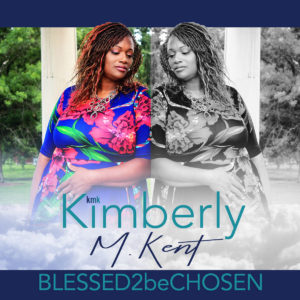 Kimberly M. Kent
Blessed2beChosen (EP)
(release date: November 11, 2017)
www.kimberlymkent.com
By Bob Marovich
Last fall, Kimberly M. Kent, a worship leader, multi-instrumentalist, and singer-songwriter from Indianapolis, Indiana, followed her debut EP The Journey with a new EP, Blessed2beChosen.
On this second release, Kent lends her burnished alto to a half-dozen self-penned songs containing biblically-based lyrics and appealing melodies. For example, the gently flowing opener, "I Am the Redeemed," uses Psalms 107:2 to highlight the specialness of salvation (hence the album's title).
Christ's death is the subject of "My Son I Give to You" and "The Debt I Owed." Throughout the new EP, but particularly on these two songs, Kent reflects on the cost as well as the legacy of Christ's sacrifice. She also sings about God's fatherly love, a balm when she felt "all alone" and "nobody cared."
Like "Redeemed," the songs are on the mellower, more introspective side, though "Power in the Name" is a mid-tempo Rhythm & Praise piece that moves along steadily, with the drum machine set to praise break tempo.
One cannot listen to this EP and not mention the marvelous background vocalists who Kent is fortunate to have. The tuneful ensemble—Jay Starks, Ki'ara Price, Lakisa Wynne, and Maria Southerland—shines throughout, and most brightly on "I Am the Redeemed" and "Only You Can Use Me."  They could easily record independently (maybe they have).
In addition to fostering her solo career, Kimberly M. Kent directs local church choirs and serves as Director of Worship at Justified By Faith Church in Indianapolis, under the leadership of Pastor Jeffrey McGhee. She is also the host of "The Journey with KMK," a radio program that airs Mondays from 5:00 to 7:00 p.m. on www.jhmradio.com.
Three of Five Stars
Pick: "I Am the Redeemed"