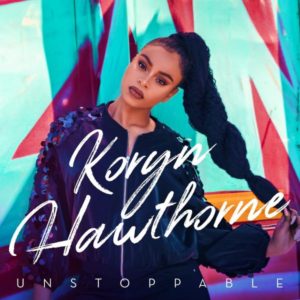 Koryn Hawthorne
Unstoppable
RCA Inspiration (release date: July 13, 2018)
www.rcainspiration.com
By Bob Marovich
Hearing just the first few bluesy bars of the Jimi Hendrix-like fuzz guitar that open Koryn Hawthorne's "Warriors," the opening track on her full-length solo album, Unstoppable, you know you are in for a sonic adventure.
Hawthorne combines the relentless vocal energy of Lady Gaga and the power praise of Cheryl Fortune with the out-of-the-box innovation of Royce Lovett.
Producer Warryn Campbell, no stranger to pop-infused gospel, helps facilitate this mélange of sound, while the lyrics remain grounded in praise, worship, and inspiration.
Those who watched Hawthorne rise on TV's The Voice won't be surprised at her versatility. Her variety of influences, from Mary Mary to Mary J. Blige, are at work here, especially on the deep groove "Bless Up" and "Stay Away," and the shoulder-shaking "Reasons," which features a rap interlude by J. Monty. The album also includes a remix of Hawthorne's first single, "Won't He Do It," recorded initially for the OWN Network series, Greenleaf.
The album's highlights are the worship ballads "You Still Love Me" and "Speak the Name" because they give Hawthorne ample space to emote.  Christian singer Natalie Grant is as a guest soloist on "Speak the Name," a new version of the song from Hawthorne's self-titled EP.
Just as "Warriors" opens Unstoppable with raised fists of victory over evil, it puts the final nail in the enemy's coffin with the similarly declarative "Down Goes Rome."
On Unstoppable, Koryn Hawthorne declares boldly and loudly that although her dance is different, "I'm all about Him."
Four of Five Stars
Picks: "You Still Love Me," "Speak the Name"