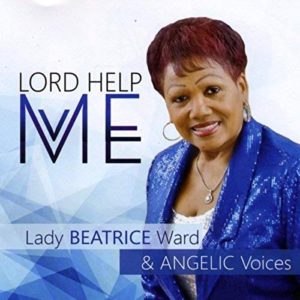 Lady Beatrice Ward & Angelic Voices
Lord Help Me
Independent (release date: March 25, 2018)
By Bob Marovich
From the lead guitar riffs that open "When Trouble Rise," and the song's incessantly chugging rhythm, you know that Lady Beatrice Ward and the Angelic Voices' Lord Help Me is going to be deliciously old-school.
Although a synth is tucked in there, the instrumentation is traditional and suitably supports the female quartet. And when the ladies are not singing at drive tempo, they favor deep southern soul tempos and arrangements.
Some selections are quartet standards that the ladies tweak and twist. For example, "It's Me" is "Standing in the Need of Prayer" but with a slow and bluesy feel and reworded as "standing on the word of God." "So Real" is Kenneth Morris's classic "Yes, God is Real."
Perhaps the most interesting aspect of the album is its two variations of "Lift Him Up." The first has an infectious hand-clapping drive tempo, while the second is a collaboration with J. Paul Jr. and the Zydeco Nubreeds. The zydeco version of the song comes complete, naturally, with accordion and washboard. The Zydeco Newbreeds and the Angelic Voices should do an entire album together.
"No Mess" is a partly humorous, partly pointed reflection on the "what's wrong with the church today" theme. "A Praying Father" is a bonus track ready-made for Father's Day programming.
Supporting the project are members of the world-renowned Jones Family Singers, notably Fred Jones Jr. on lead guitar and the dynamic Alexis Giles as lead vocalist on "Come See."
Overseer Paul Grant Sr.'s production of Lord Help Me is clean and simple and the songs don't containg deep messages. Nevertheless, the songs tender the feelings and beliefs that have sustained African American church congregations for decades.
Four of Five Stars
Picks: "Lift Him Up," "When Trouble Rise"